TRAXXAS-SUMMIT 4WD
Fully assembled, Ready-To-Drive® with TQi™ 2.4GHz 4-channel radio system, waterproof electronics with EVX-2™ Electronic Speed Control and ExoCage™ painted body.
Availability:
In stock

(1)
Available in store:
Check availability
Battery And Charger Sold Separately

When the trail gets tough, you can count on Summit to pull through. The Traxxas Summit offers versatility, durability, and off-road capability greater than any other 4WD monster truck. Our engineers packed Summit with high-tech innovations like our transmitter-operated high/low transmission and remote-locking front and rear differentials. Summit generates massive torque from the giant 775 Titan® motor while the rugged ExoCage™ keeps Summit safe on the trail. These are just some of the weapons in Summit's off-road arsenal. When you drive a Summit, no stream is too big, no trail is too tough, and no hill is out of reach.
Transmitter-operated remote locking differentials
Transmitter-operated High-Low transmission
Titan® 775 motor
TQi 2.4GHz 4-channel transmitter and micro receiver
17mm splined aluminum hex hubs
Industry's first dual-CV telescoping half shafts
Geode™ rims and Canyon AT™ tires
ExoCage™ body
10-LED light system
Specially tuned long-travel suspension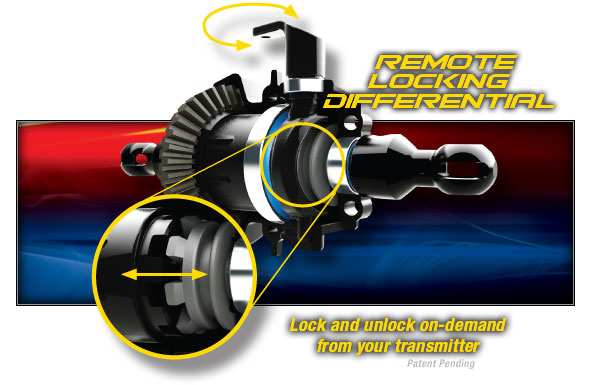 Only Summit™ gives you the ability to lock the differentials and shift from low to high gear right from the transmitter. No need to break from the action to swap gears or install locking parts. Tear up the trail in "high range" with a 25:1 ratio for dirt-slinging speed. When the terrain turns technical, drop it into "low range" for a 70:1 ratio and unreal climbing torque. For the ultimate in climbing traction, flip the T-Lock switch to lock the front differential. Need even more grip? Activate the rear T-Lock diff for fully-loaded 4WD power no matter which tire is gripping or slipping.
No need to head for the garage when the sun goes down; Summit lights up the night with an integrated LED illumination system. Four bright white LEDs blaze the trail ahead, while six red LEDs show where Summit's been. The LEDs are integrated into the bumpers for durability and convenience, and the chassis-mounted wiring harness eliminates the possibility of tangles and hooked wires.

0
stars based on
0
reviews