67054-1 - Stampede® 4X4: 1/10-scale 4WD Monster Truck. Ready-To-Race® with TQ™ 2.4GHz radio system and XL-5 ESC (fwd/rev). Includes: 7-Cell NiMH 3000mAh Traxxas® battery
Fully assembled, Ready-To-Drive®, TQ 2.4GHz Radio System,
XL-5 electronic speed control, 4-amp DC Peak Detecting Fast Charger, and ProGraphix® painted body.
Availability:
In stock

(1)
Available in store:
Check availability
Speed, style, versatility, and fun…Stampede 4X4 has it all! The Stampede 4X4 is built Traxxas Tough™ to withstand all the 4-wheel drive monster mayhem you can dish out. Its tall, drive-over-anything ground clearance and ultra-tough, long-arm suspension make Stampede 4X4 feel nearly indestructible. Stampede 4X4 Brushed (#67054-1) Three-Quarter Chassis FrontChrome All-Star™ 2.8" wheels give Stampede 4X4 aggressive style, and soft Chevron Maxx™ tires deliver true multi-terrain capability. The XL-5 ESC and Titan 550 motor dish out plenty of driving excitement. It's all waterproof, so the fun keeps going through all kinds of wet conditions! No other truck offers Stampede 4X4's unique style, capability, and reputation for durability. Stampede 4X4 is perfect for almost any age driver or skill level and comes fully assembled, painted, and Ready-to-Drive® with included 8.4V NiMH battery pack and charger.
TQ™ 2.4GHz radio system
4-amp DC Peak Detecting Fast Charger
Traxxas 7-cell NiMH battery with iD®
Waterproof electronics all-weather, all-season RC excitement
Titan® 12-turn 550 modified motor®
XL-5 electronic speed control
Sealed, steel-gear front and rear differentials
Shaft-driven 4WD with heavy-duty axles
Tough composite modular chassis
Chevron Maxx™ 2.8" tires with foam inserts pre-glued on chrome All-Star™ wheels
ProGraphix® painted body graphics
Oil-filled Ultra Shocks with shock guards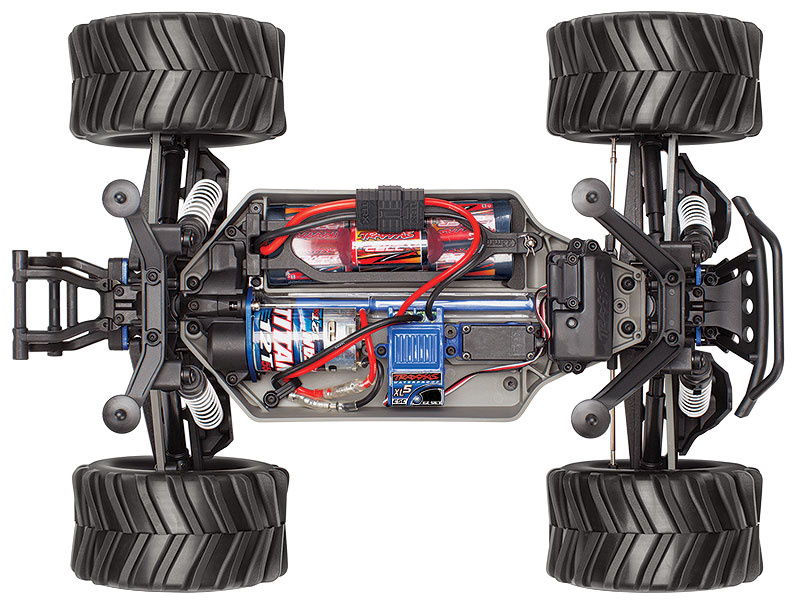 To harness the torque of the Titan 12-turn motor, Traxxas bolted in the high-performance, waterproof XL-5 electronic speed control. EZ-Set® one-button setup makes it easy to adjust or change profiles. Traxxas' exclusive patented Training Mode™ profile cuts total power output in half and leaves the brakes at full strength. It's the first controller of its kind that has a 50% power profile. Training Mode is designed for young or first time drivers that want to learn the ropes before unleashing the full power of the mighty Titan 12T motor. This makes the Stampede 4X4 perfect for almost any age driver or skill level.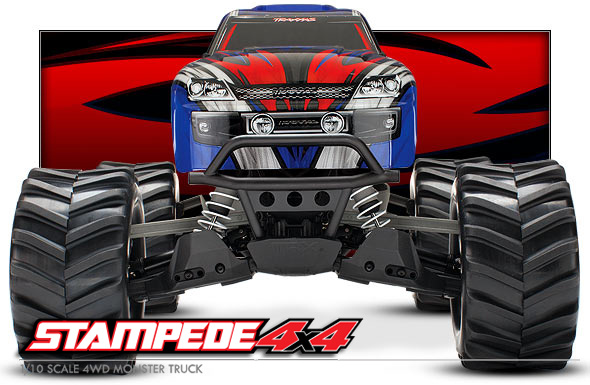 0
stars based on
0
reviews